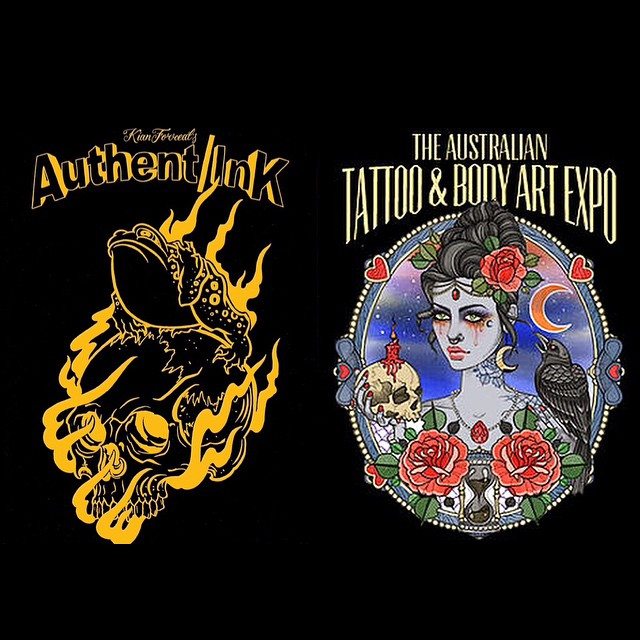 The 7th Annual Sydney Tattoo & Body Art Expo was held on 13th, 14th & 15th March 2015 at the Royal Hall of Industries, Moore Park. The event featured over 300 local, national and international artists and attracted over 16,000 visitors over the three days! Authentink Studio was well represented with a huge 5 station booth right near the front door!
The highlight for the expo was Kian Forreal winning the top prize in the Asian/Oriental tattoo contest with his giant Koi Back Piece. What an honour to win first place in his chosen speciality!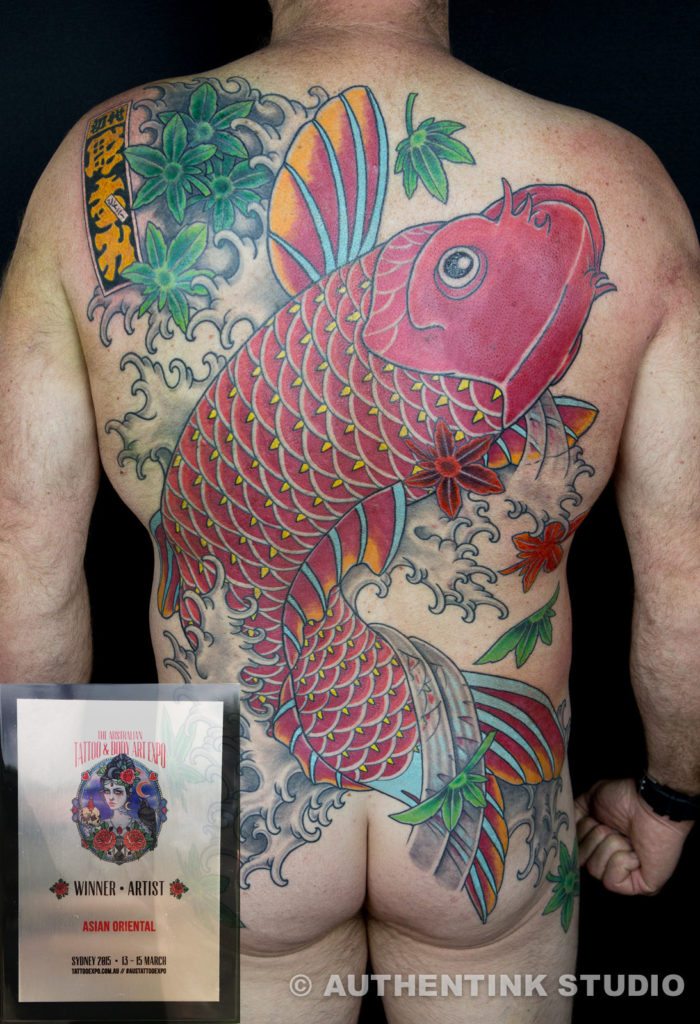 All our artists from Authentink Studio worked at the expo, with some continuing work on existing clients to showcase their favourite works for the crowd, but we also put aside time for walk-up tattoos, which is what the expo is all about!
Check out the pics below of the team and all our awesome clients!
The Sydney Tattoo Expo 2015 Authentink Crew (from left to right : Anna, Seth, Jordan, Enku, Kei, Kian, Logan, Lauren)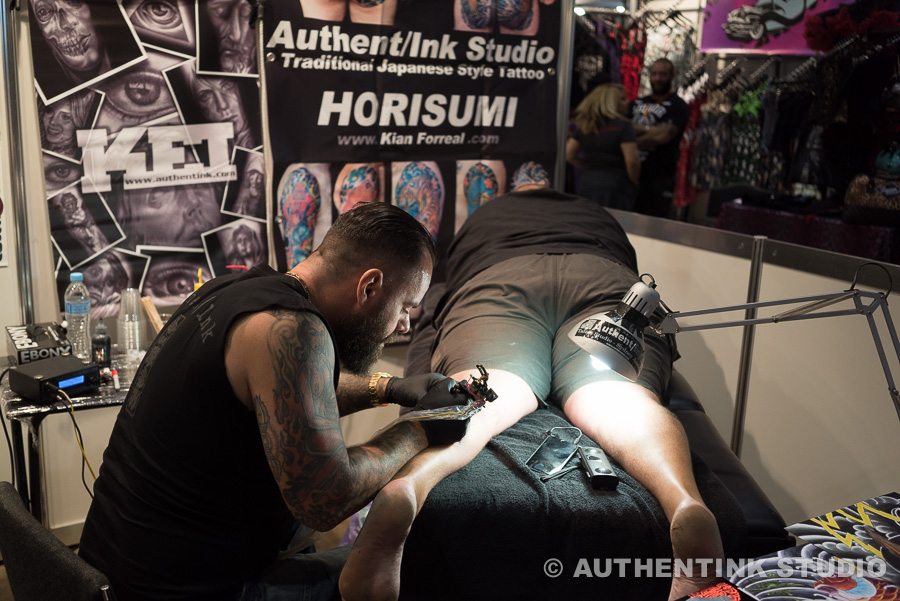 Kian Forreal working on a dragon head calf piece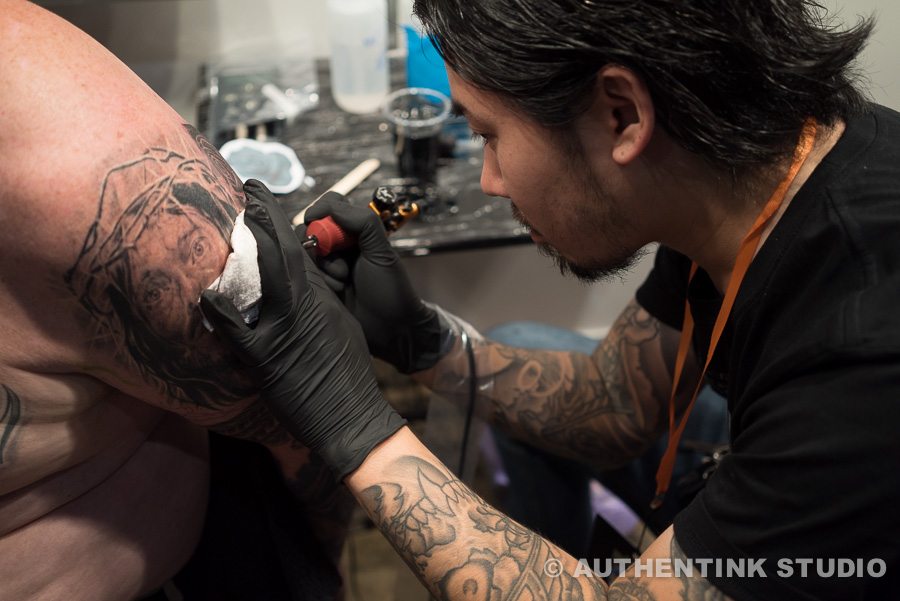 Kei finishing off a full black and grey religious sleeve
Enku Shoji finishing off his Terry Pratchett inspired sleeve (finished piece below!)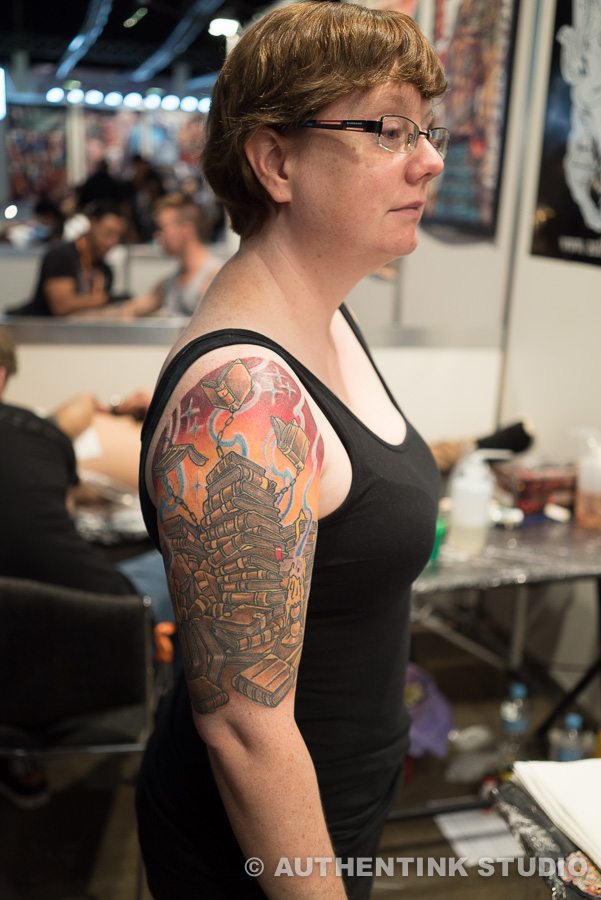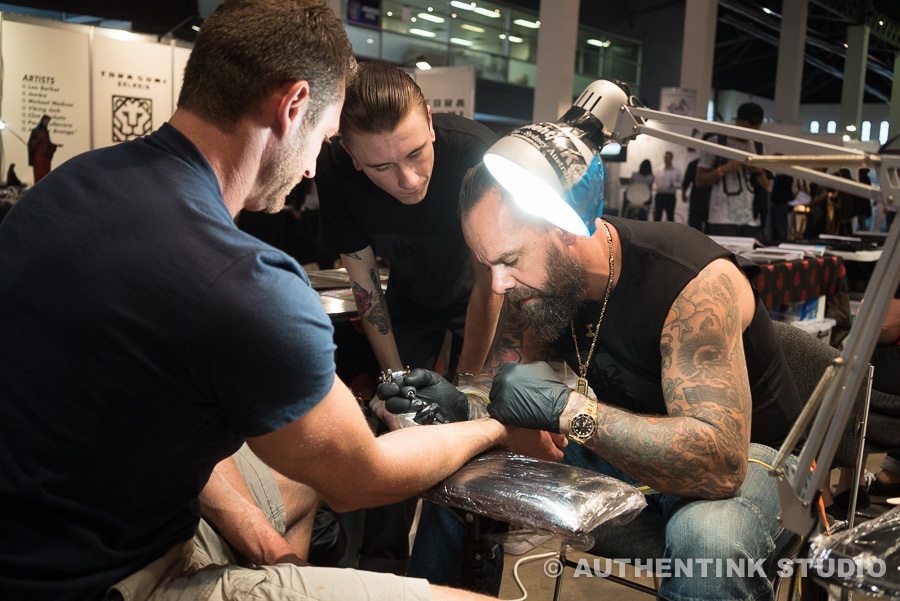 Kian Forreal working on a small script walk up piece, his deshi Logan dutifully watching over Kian's shoulder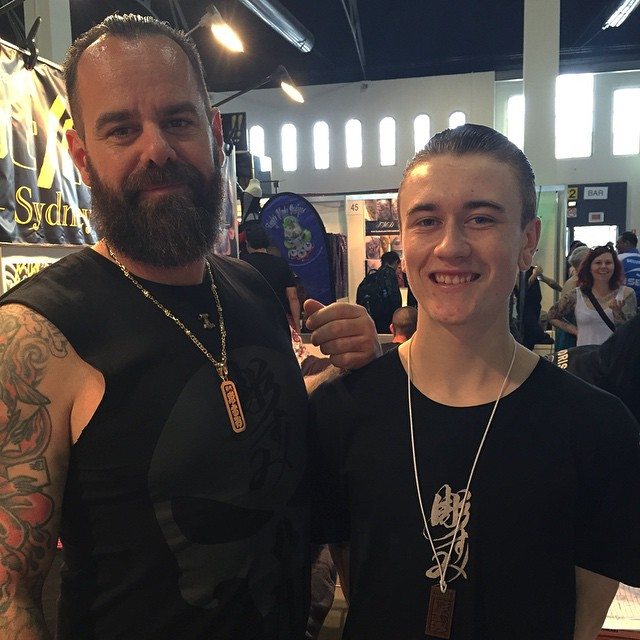 Jedi Master and Padawan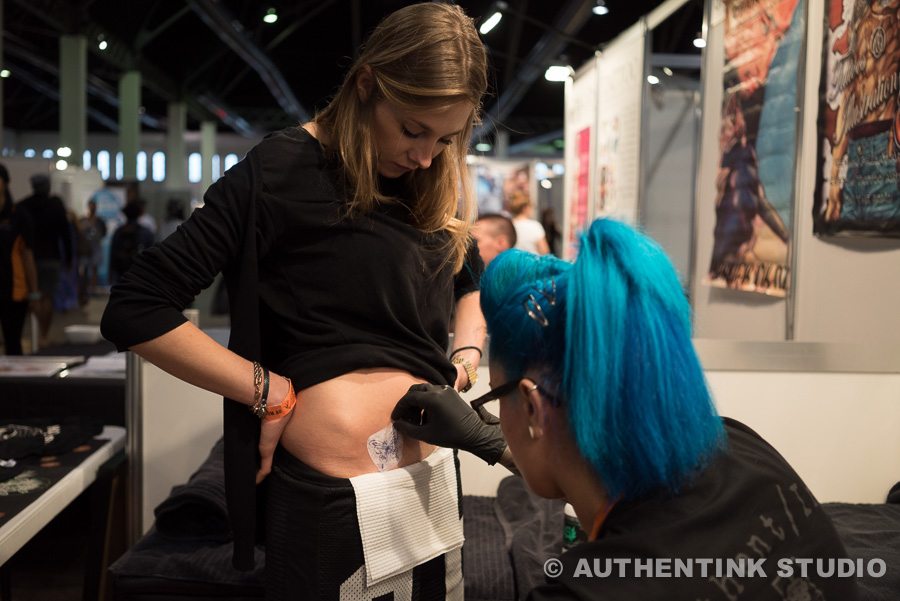 Lauren Fox stencilling on a small walk up butterfly piece
Kei finishing of a sleeve of butterflies and roses, adding in background
More on Kian Forreal's dragon head calf piece!
Rose sleeve by Jordan Keeble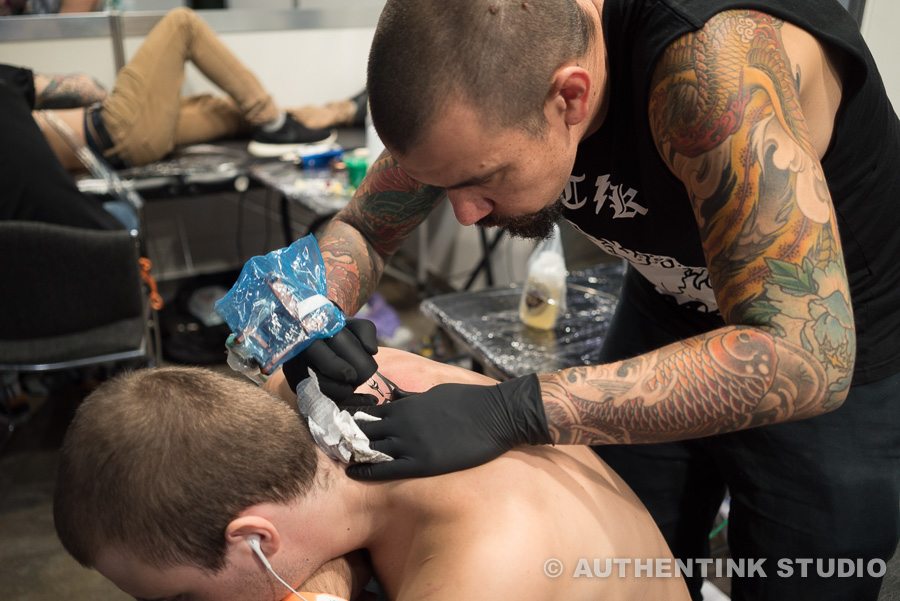 Enku working on a walk up neck piece!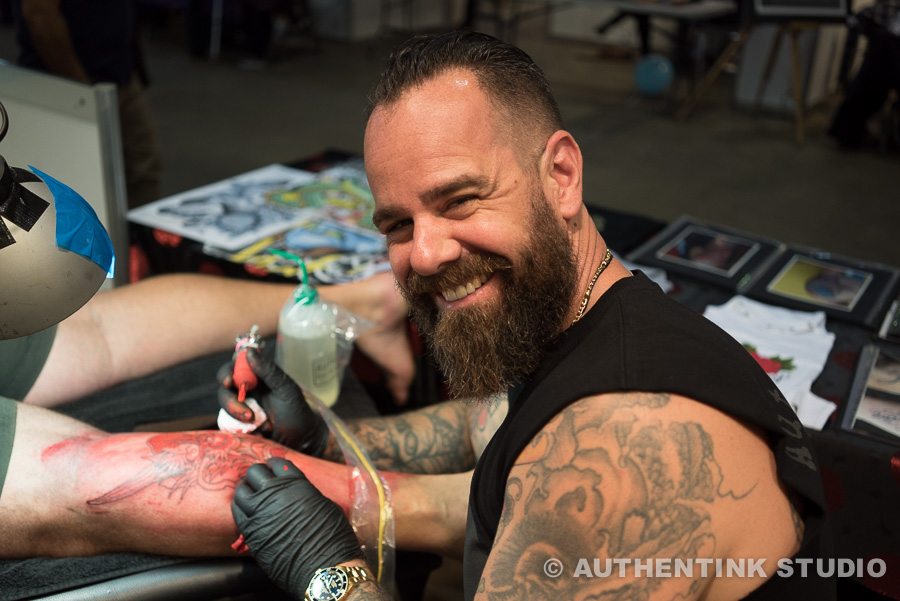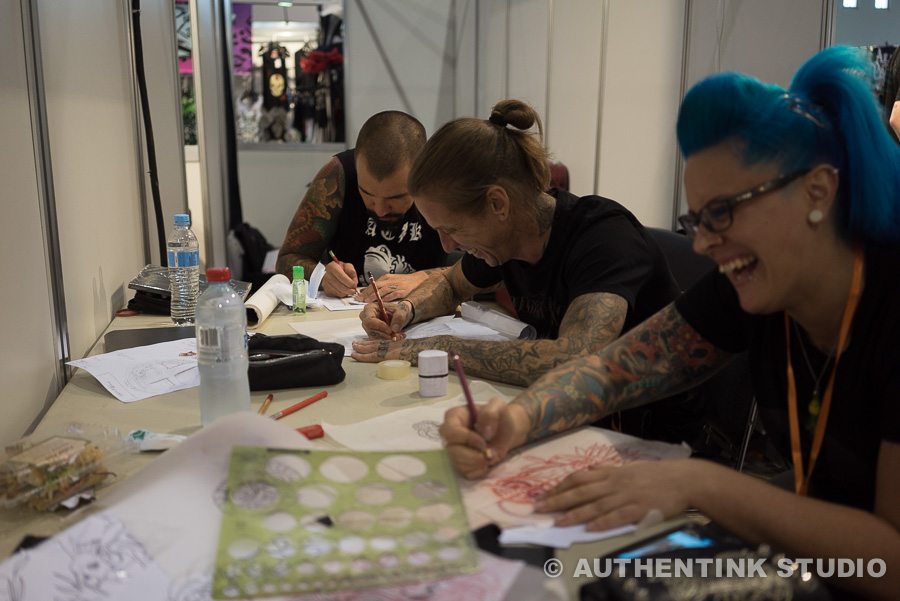 The crew set up a back room drawing area to create custom walk up pieces!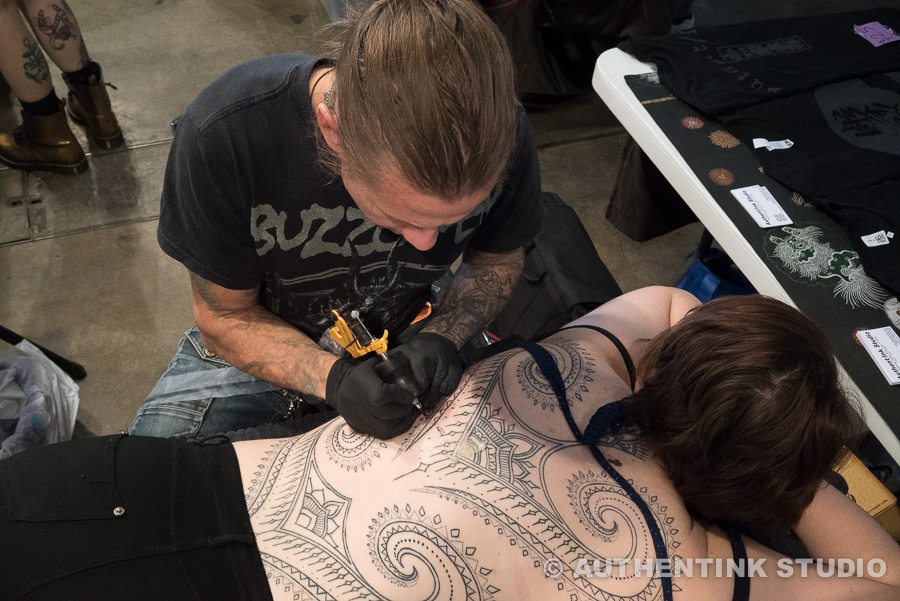 Seth Arcane continuing work on this epic geometric/dotwork back piece
All 5 stations pumping at the expo!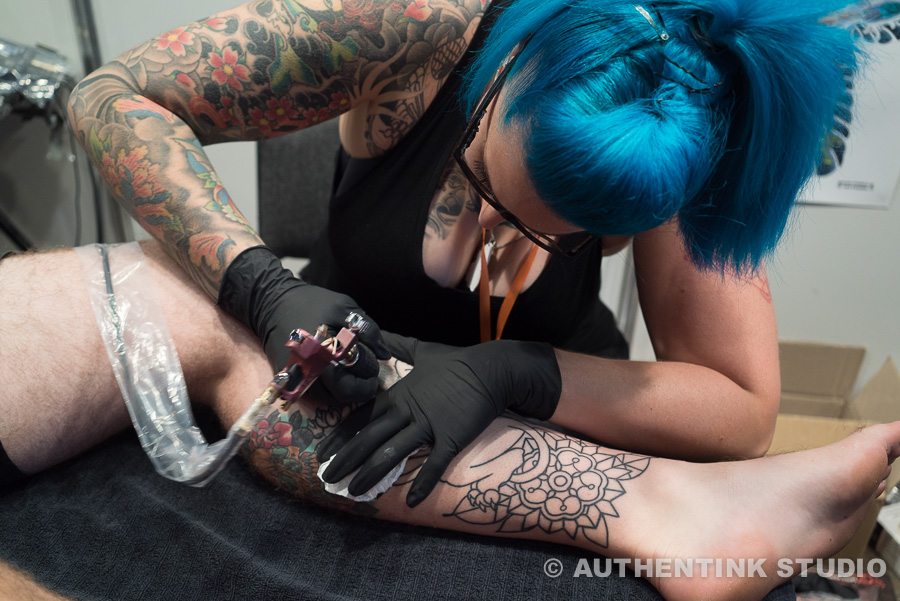 Lauren Fox finished off an awesome traditional panther leg piece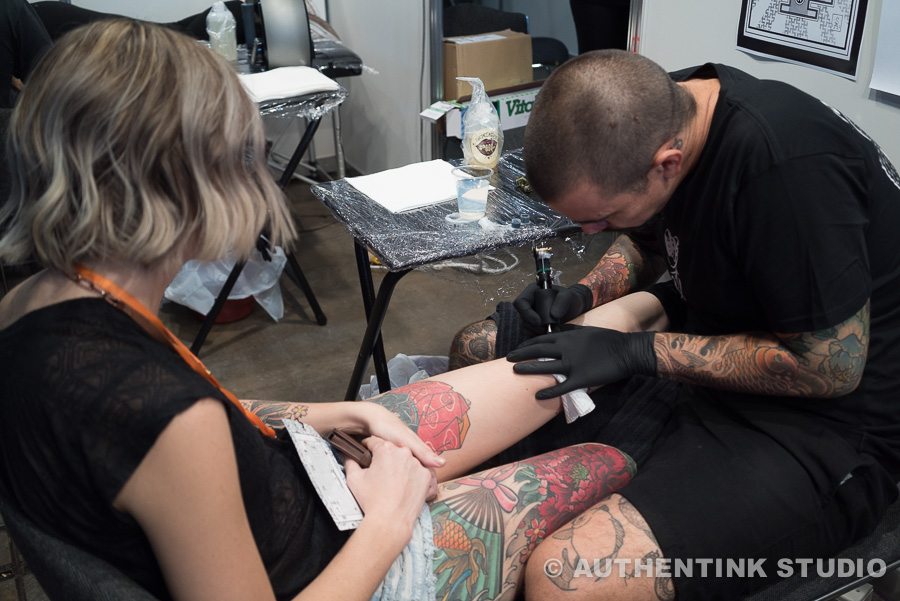 Enku Shoji completing the other side of a double knee script rocker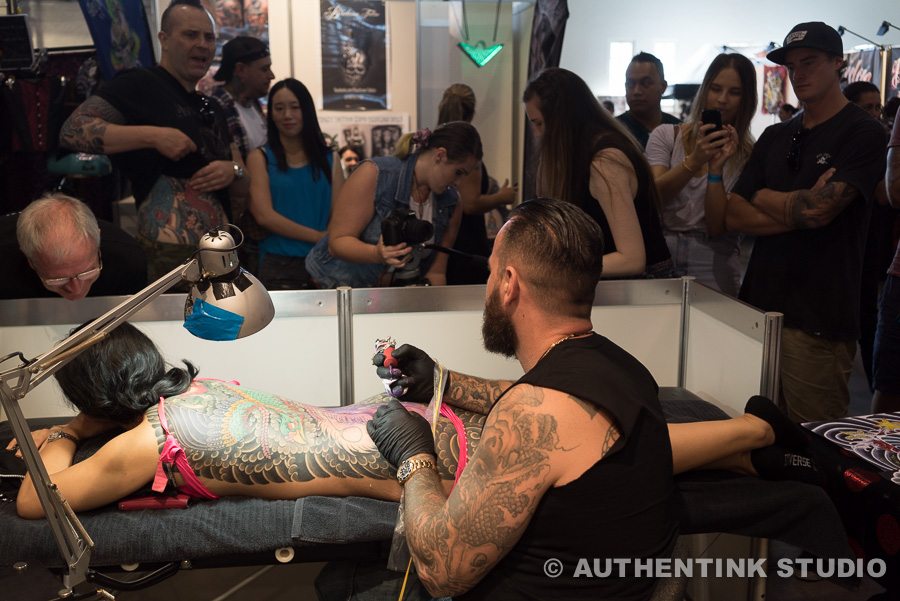 Kian Forreal shading colour on the feathers of Sarah's phoenix back piece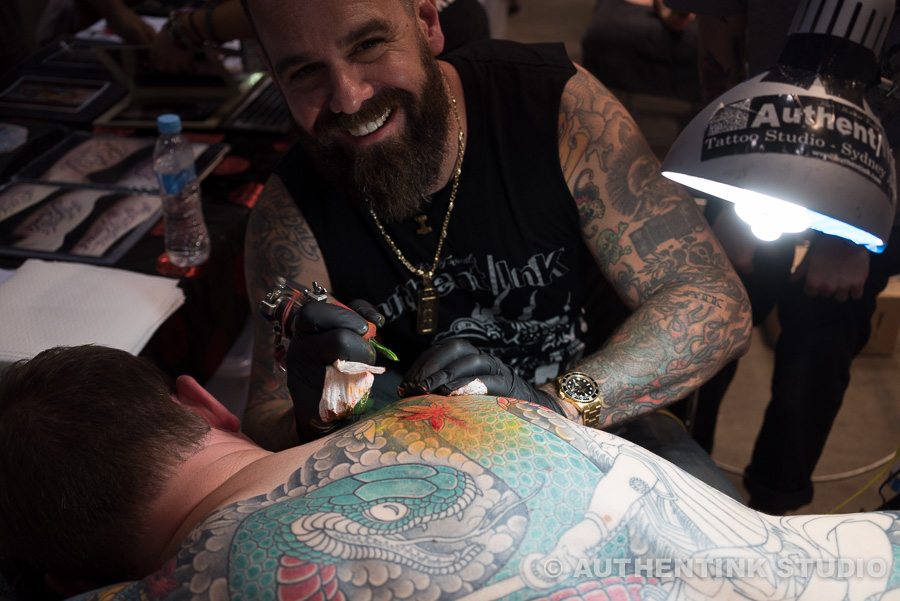 Kian Forreal having a great time with Jason's warrior/snake back piece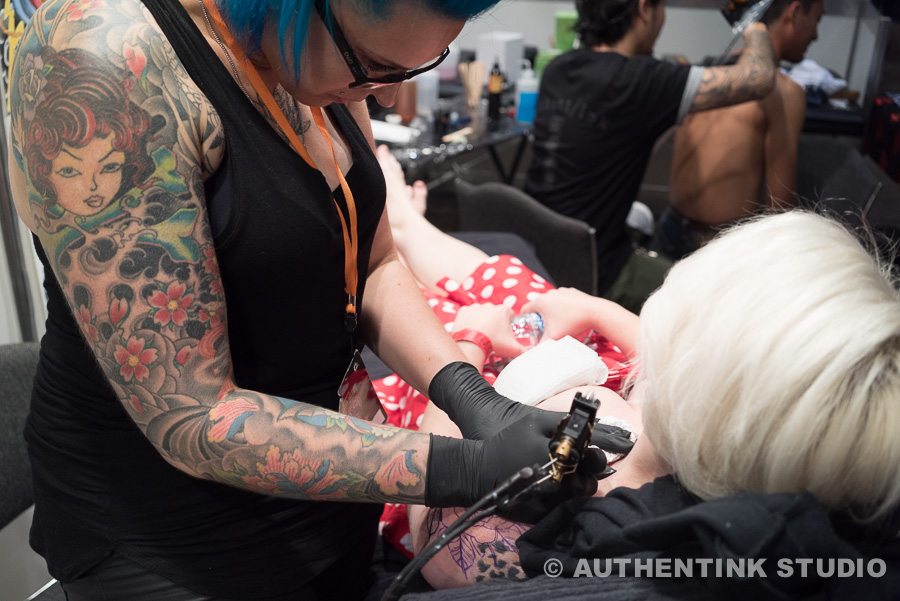 Lauren Fox starting off a traditional rose shoulder piece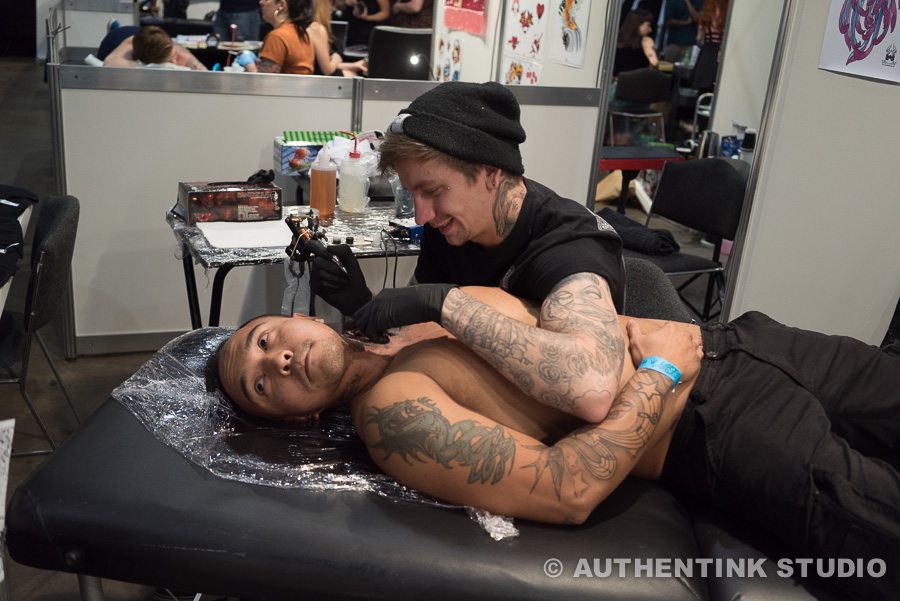 Jordan Keeble kicking off a traditional rose cover up piece!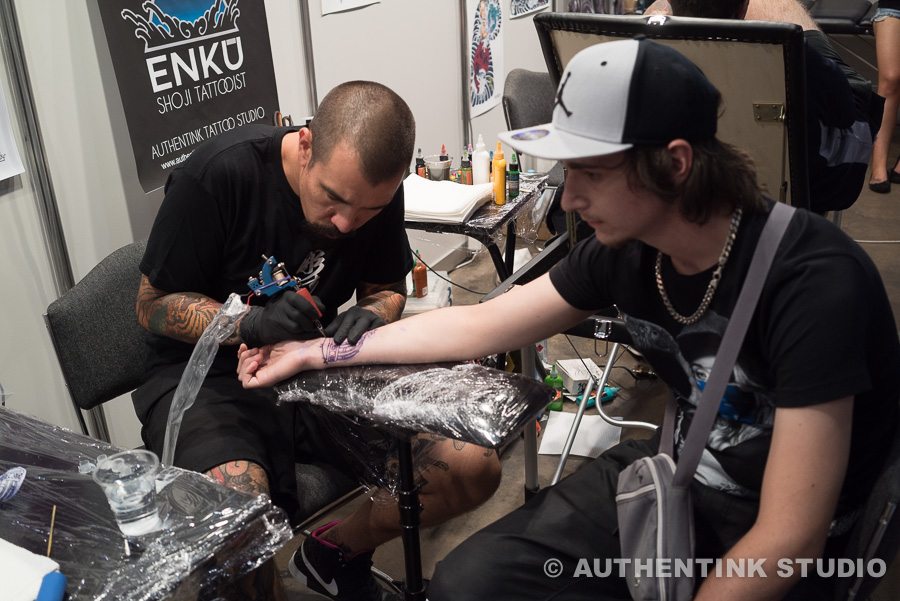 A black and grey crown on the wrist, walk up tattoo by Enku Shoji
Seth Arcane working on one of his amazing dot work pieces (finished piece below!)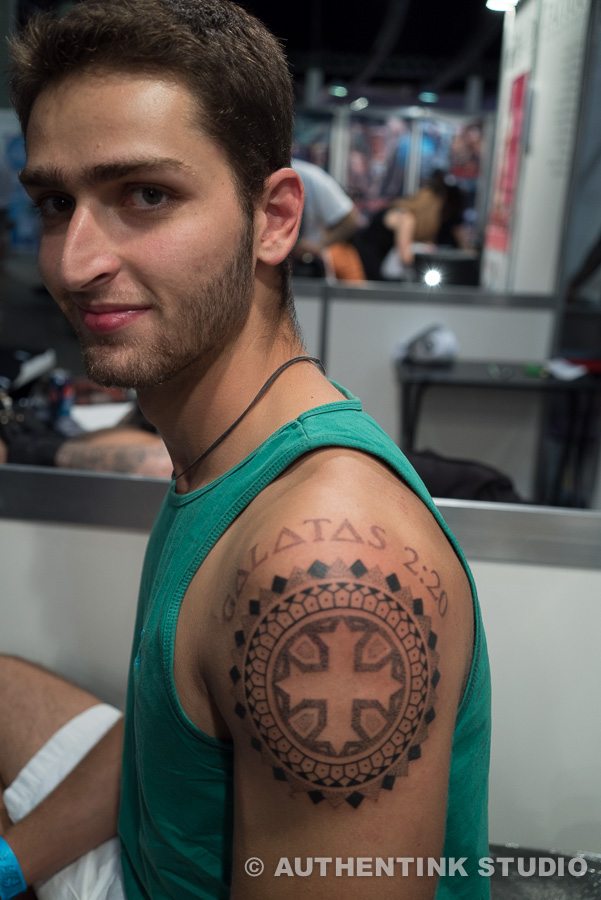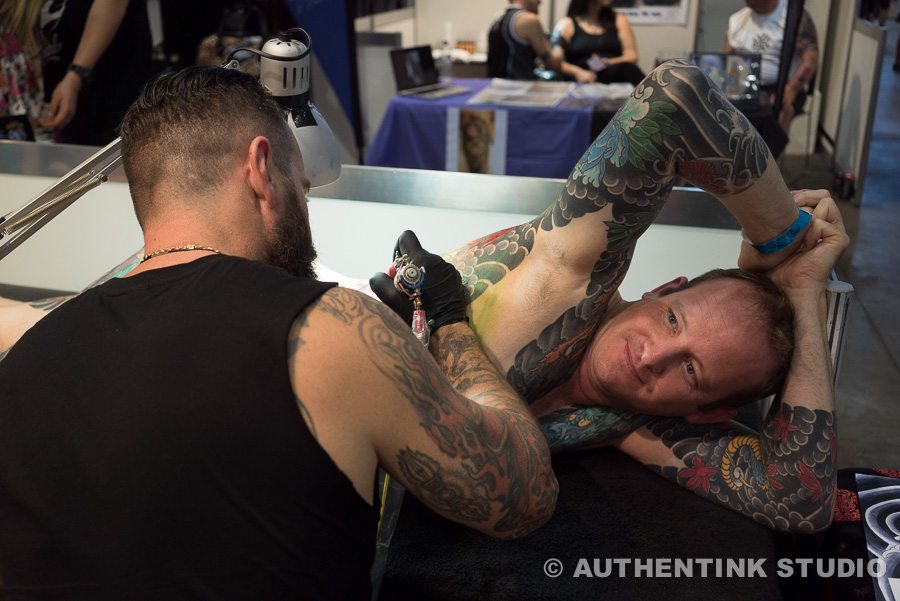 Kian Forreal working on the best part of a back piece, the ribs near the under arm… Ouch!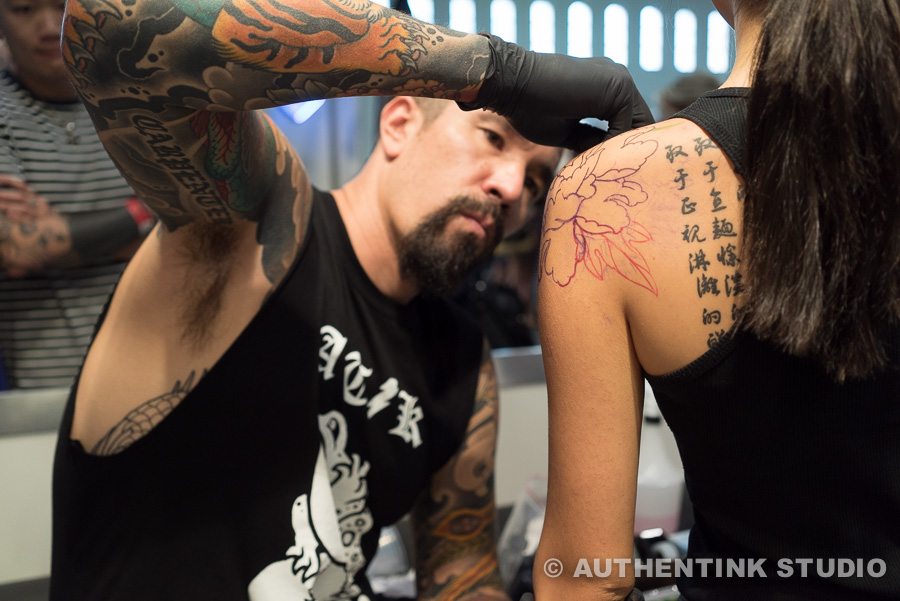 Enku Shoji drawing on a peony, not bad for an impulse walk up tattoo!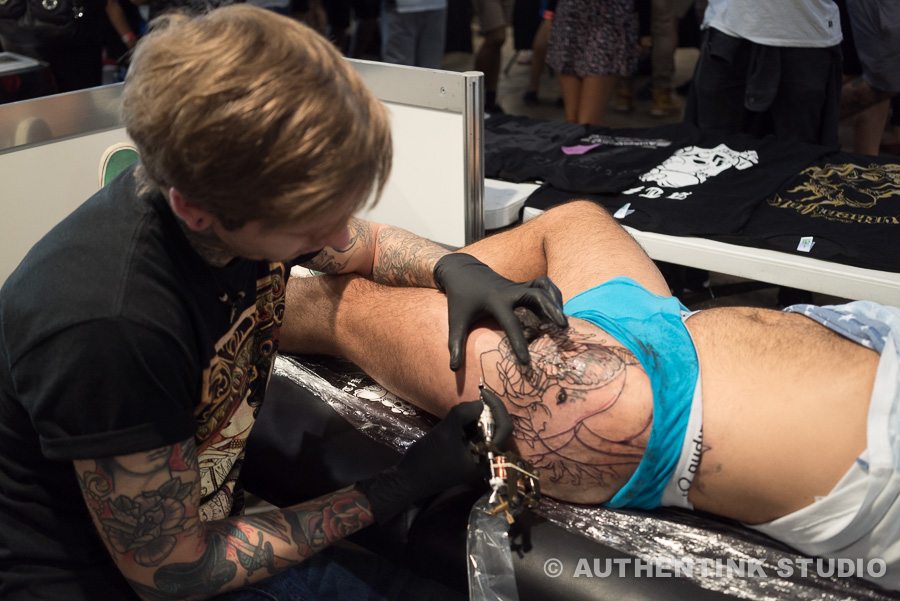 Jordan Keeble having a whale of a time with this thigh piece 🙂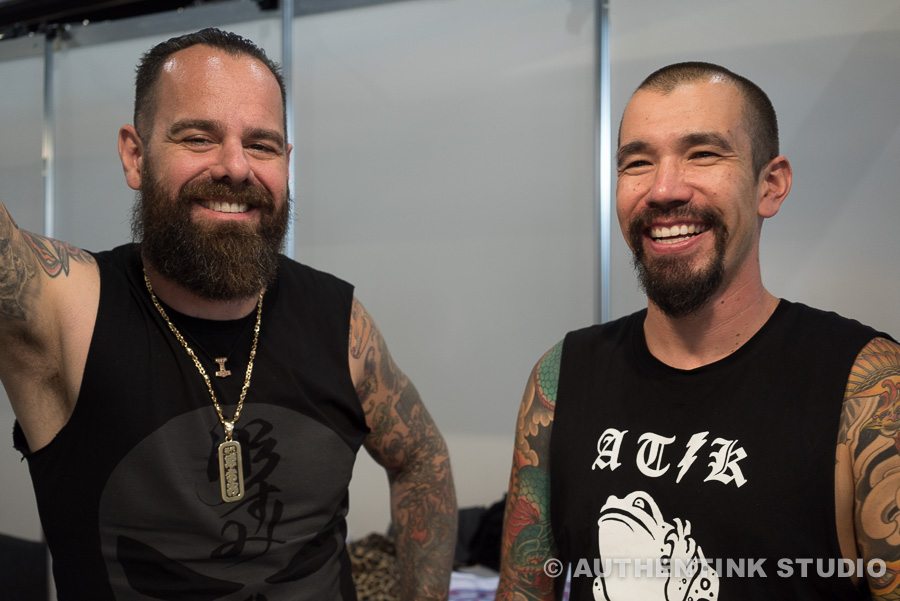 Kian Forreal and Enku Shoji
Seth Arcane starting on a neck piece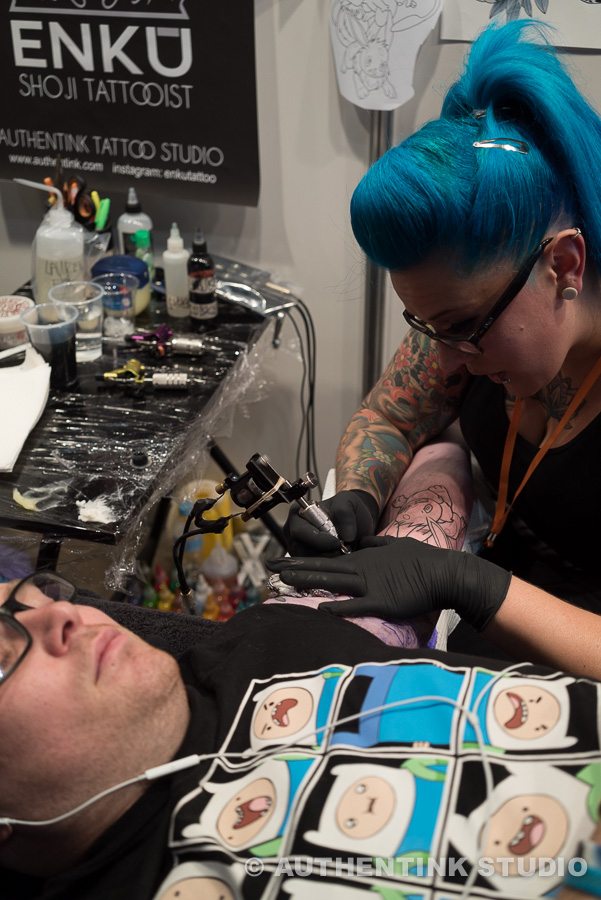 Lauren Fox extending her fun Pokemon sleeve. She loves this stuff!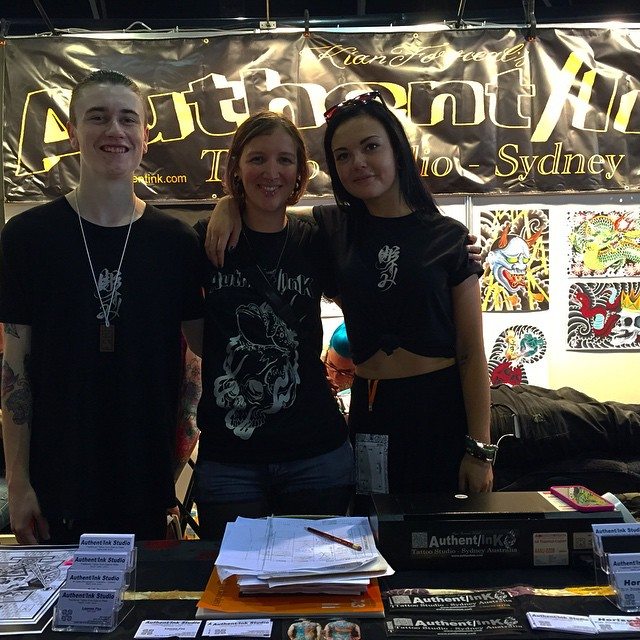 The Support Crew – Logan, Anna and Jordy Jae. Love you guys, you rock!!! 
The whole team had a great time, huge thanks to all our amazing clients who are patient, dedicated and love the art as much as we do! We'd be nothing without you! See you all next year!