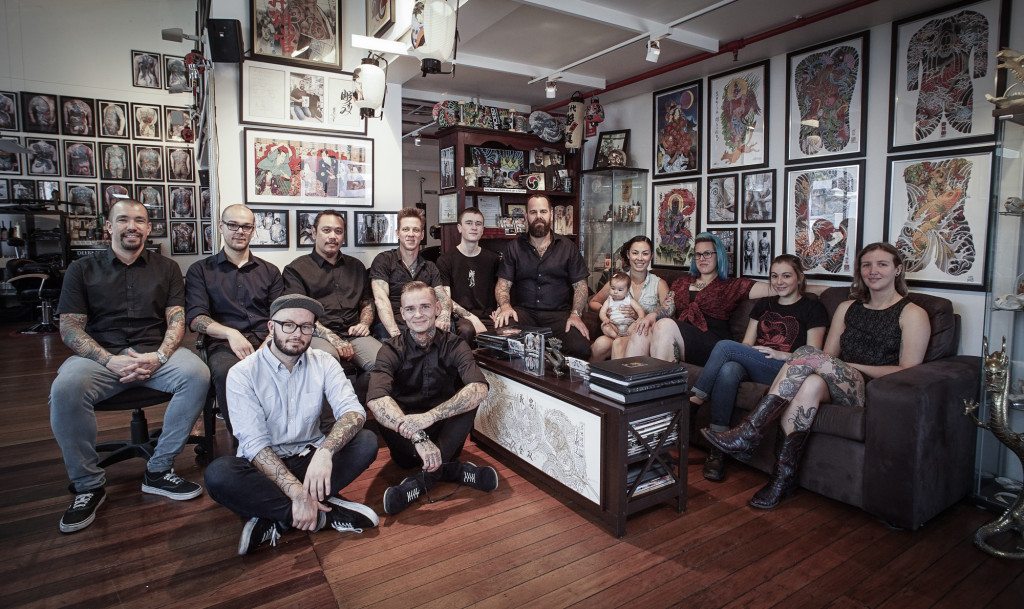 Happy New Year from all of us at Authentink Studio! We are all back to normal hours and days and holidays and ready to rock! We have a full shop for this summer with a great line up of talented artists that cater to every style of tattooing that matters!  We'll also have a few guests coming along this year from overseas to bring some extra international flavour to the shop! Even though the majority of our artists are  themselves!
Kian 'Horisumi Forreal is from Canada and specialises in traditional japanese style tattooing, Lauren Fox is from the USA and specialises in American Traditional and comic book art as well as several other contemporary styles. Seth Arcane is from South Africa and excels at Dotwork, geometric style tattooing as well as tribal and Polynesian and Maori styles of blackwork art. Ning Chula hails from Thailand and specialises in modern and traditional styles of Japanese tattooing as well as some black and grey realism and smaller dotwork pieces. Enku Shoji of Japanese descent loves doing all styles of Japanese tattooing and some lettering as well as the occasional black & grey piece. Lance St. Vincent is our resident Australian artist of mixed descent that loves all things Japanese and American traditional, he also loves and specialises in all sorts of lettering and fancy scripts, large and small! We have two long time serving guest artists as well,  Jess Martucci that comes to us from France and has lived and worked in Japan among other places, he loves doing smaller Japanese inspired tattoos and traditional pieces. And last but certainly not least is Jonas Bødker that came to us directly from Denmark and creates the most amazing realistic and technically perfect black & grey realism tattoos that have to be seen to be believed!
All of our artists are dedicated professionals that put their tattooing above all else and care greatly about each piece they are doing whether it is their speciality style in a large tattoo or a small walk-in tattoo. Each artist does walk-in tattoos when time permits and is versatile enough that they can tattoo in any style incredibly proficiently when called upon to do so from small names on a wrist to butterflies, dreamcatchers or geometric designs. We have it covered.
Thats our line up for this year so far, please check their respective portfolios in the artists page and check out their work in detail!  Any questions or if you want to book in a free 30 minute no-obligation consultation with one of them you can ring us on (02) 8399 1973 or email us through the contact form on the contact page.
Many thanks and all the best in 2016!