Biography
Kian Forreal works under the Traditional Japanese Tattoo name of 'Shodai HORISUMI'. He specialises in Traditional Japanese Tattoo also known 'Irezumi' or 'Wabori'. Horisumi uses tattoo machines to make tattoo outlines and for his backgrounds, shading and colors he works in the hand poke traditional method of Japanese tattoo called 'Tebori'. He can also shade and color by machine upon request. With his work he aspires to create lifelong and lasting authentic tattoos in the Japanese Style with a diligent and committed work ethic.
Horisumi's tattoos are highly detailed, richly coloured and technically proficient yet remain elegant and simple to look at on the skin and are created to last for decades, not just for a quick photo. He imports and creates all his coloured inks from powered pigment and mixes them by hand in the studio. His blacks and shades of black are all made from sumi sticks imported from Nara, Japan, and are ground and mixed in the studio as well. Horisumi only uses high grade Japanese steel needles that he imports himself to make his highly specialised Tebori hand poke tools. All of his equipment, supplies, needles, ink and tools are of the highest quality, have been tried and tested for generations by Japanese tattoo masters and are solely utilised for his work, no expense or effort has been spared.
When Horisumi is not drawing, painting, or designing he also frequently write for tattoo magazines on current affairs, tattoo culture and tattoo history as well as opinion editorials. Another passion of his aside from art and tattooing is researching Japanese tattoo culture and he regularly gives lectures and seminars on Japanese tattoo art, history and culture and do tattoo public demonstrations. Horisumi has presented at the prestigious Art Gallery of New South Wales, the Japan Foundation in Sydney and at the Newcastle Museum of Art.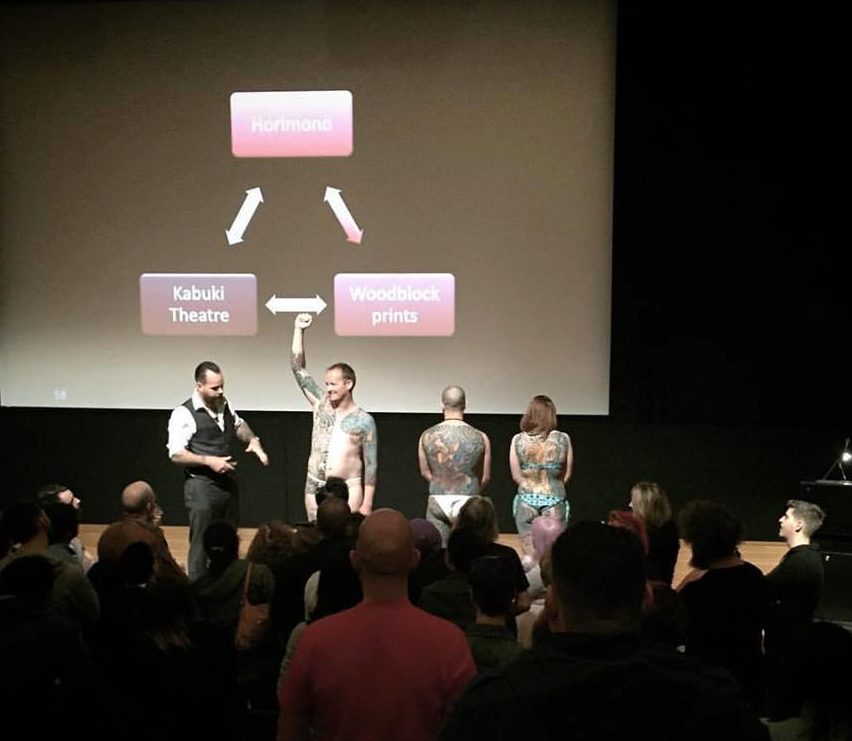 Horisumi began his path into tattooing in his native Canada in 1986 and eventually learnt to tattoo under Crazy Ace Daniels and worked for him for several years before setting sail east.  He worked in Europe under several mentors that are considered contemporary tattoo masters of the European Japanese style, and is now periodically studying and being mentored in Japan by a Japanese Tebori master.  Coming from a Canadian background and having lived in Europe for many years his inclination for travelling the world and seeking 'more' came very naturally and in doing so he has worked with and learned from some of the best tattoo artists living today at some of the finest tattoo shops around the globe.
The title of Horisumi was given to Kian Forreal in 2013 by Japanese tattoo master Horiyoshi III, after 20 years of tattooing.
All traditional Japanese tattooers have a 'hori' name, hori means 'to carve' and a tattooer is a 'horishi' or carver, this a throwback to the woodblock print or ukiyo-e days when block carvers would also do some tattooing on the side. Some of you may know that 'sumi' ink is the old traditional ink sticks used in Japan that were/are used for not only brush painting and calligraphy but also traditonal tattooing, hence the term 'irezumi'.  There is also a play on words as the character for 'sumi' is also a character meaning 'truth' and since Kian's last name is Forreal the master was inspired to give him a name with meaning relevant to his personal name.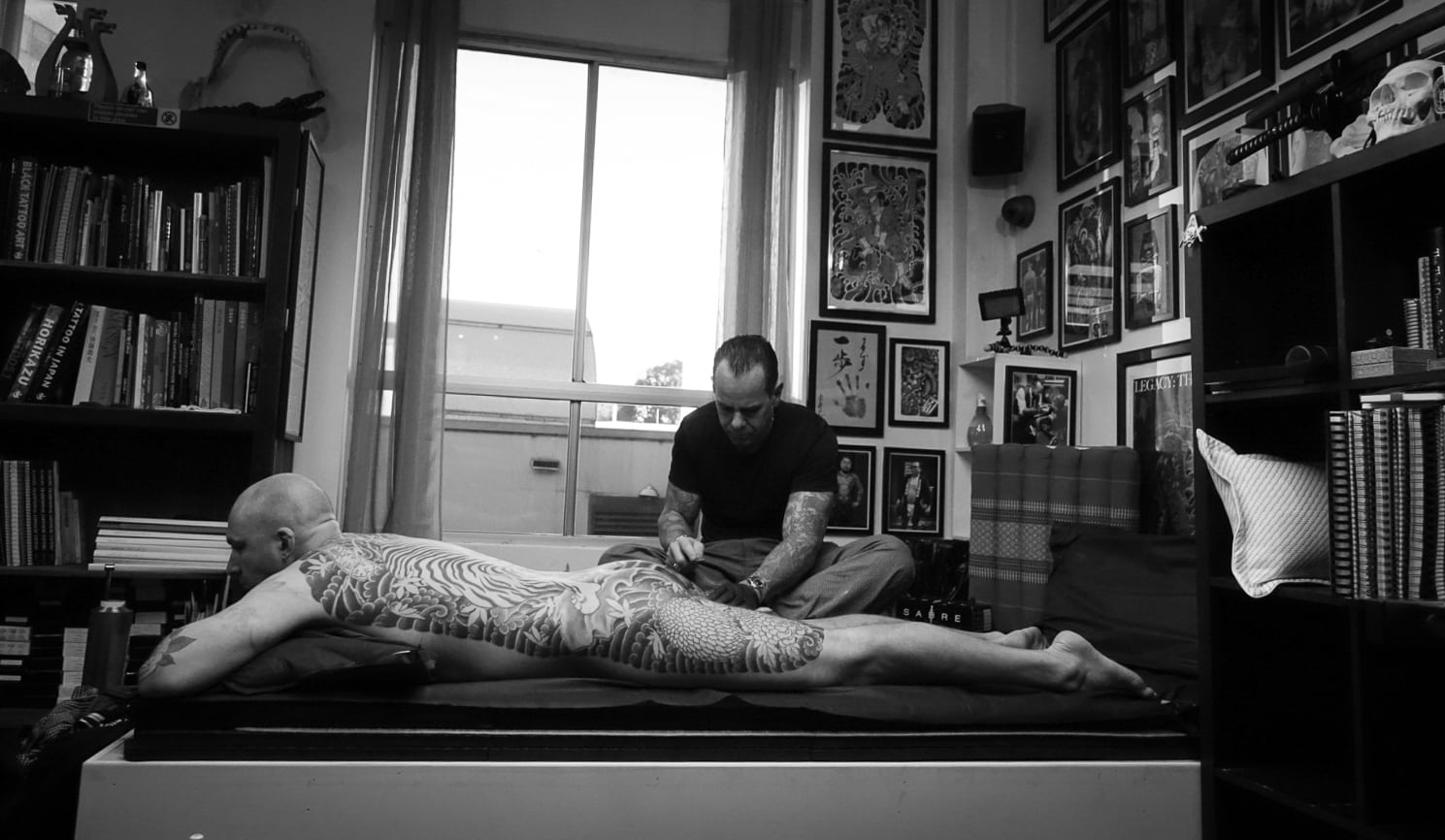 In an informal and sometimes formal way Horisumi studied under, worked with and learned from such living  (and deceased) tattoo legends as Crazy Ace Daniels, Henning Jorgensen, Trevor Mcstay, Greg Orie, John 'The Dutchman' van 't Hullenaar and Paul Braniff.  He also worked with and learned a lot from his esteemed contemporaries and friends, Horikashi, Marco Serio, Regino Gonzales, Aaron Bell, Neil Ahern, Will Card, Clay Decker, Joao Bosco, Megumu Kamata, Ian Forlife, Lucky Bastard and many more.
Sometimes it was just a little thing he learned from them, how to make a better needle or shade a dragon in a different way to show more volume, or a life changing drawing technique that would alter his whole approach to his craft, whatever it was he would not be where he is today without these artists. If you get the chance, find them on the internet and check out their work and their stories. He is forever indebted for their guidance and kindness in helping him out.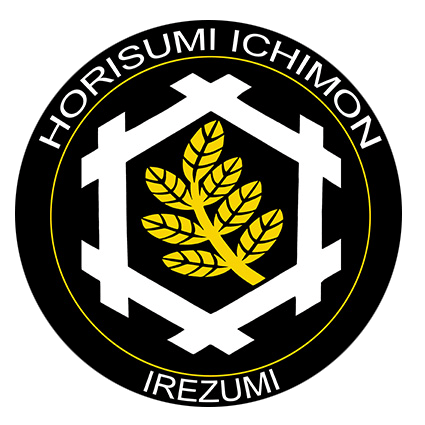 Horisumi is also greatly indebted to all the great tattoo artist, craftsmen and painters, living and deceased, whose shoulders he stands on and am continually inspired by on daily basis; foremost is Horikashi his tattoo brother and mentor, master tattoo artist, master craftsman and master painter, he is a legend in the making! The living legend himself Gifu Horihide whom without whose efforts Japanese tattooing may have taken decades longer to reach the west. His good friend Asakusa Horikazu for staying true to the life and being a shining example of what real Japanese tattooing is based on, Horiyoshi III for his constant drive and perseverance and creativity, Horikitsune for being a great friend to him and a source of support and inspiration, Horitoshi (Family) for being as Traditional and real as it gets, Horikyo, Chris O'donnel, Paul Jeffries, Mick, Ivan,  Hokusai,  Kuniyoshi, Kunisada, Yoshitoshi, Kyosai! and many many more whose work he loves and admires.
If anything, his work is a tribute to them.